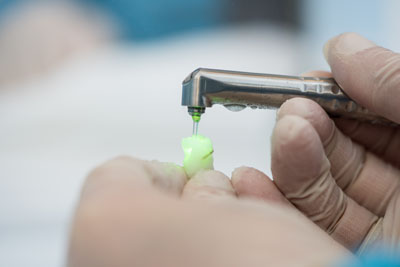 If you are in need of a dental restoration, you should know why crowns and bridges are excellent restorations to consider. Crowns and bridges can work separately or together to offer you aesthetic value and functionality in place of missing or damaged teeth. For long-lasting coverage that also provides an attractive touch, continue reading to learn more about the advantages of crowns and bridges. They are both fixed artificial improvements that are adhered to existing teeth or implanted by an experienced dentist.
Crowns
Crowns are primarily used to cover damaged teeth that are otherwise left susceptible to more damage or decay. Crowns can replace large fillings that will otherwise be at risk for falling out. They can protect a weakened tooth from breaking and restore a tooth that has already cracked. They can be used to cover a dental implant and complete your dental replacement. Crowns can even be implemented to cover discoloration, misshapen teeth, or to protect a tooth that recently had root canal therapy.
Bridges
Bridges are a dental restoration and replacement option that can take the place of one or more missing teeth. They are cemented to nearby natural teeth or implants in order to hold the artificial tooth in the gap that was created by your missing tooth.
Crowns and Bridges Work Together
When you receive a bridge, you will also require crowns. Crowns are the anchor that holds your bridge in place. Your abutment (or nearby) teeth will be gently shaped in order to make room for a crown to be placed on each one. The crowns will be attached to your bridges to hold them in the gap. Crowns and bridges are fixed dental improvements that are cared for like your natural teeth. They are easily brushed and cleaned and can last for many decades when properly cared for.
Benefits of Crowns and Bridges
Crowns and bridges not only strengthen damaged teeth, but they also help improve the appearance, shape, bite, and alignment of your dental structure. They will also keep your teeth and jawbone from shifting when you are missing teeth. Because of this, your dental health is sustained, and you will not be at risk for losing more teeth or having an unhealthy or misshaped jawbone.
How Crowns and Bridges Are Created
In most cases, your teeth will need minor work before crowns and bridges can fit into place correctly. An impression will be made of your teeth and gums in order to have your crown or bridge fabricated. Shading will also be determined in order to make crowns and bridges that match your surrounding teeth.
Crowns and bridges are excellent restoration options that will provide you with attractive and functional teeth for many years to come. If you need dental replacements or restorations, we highly recommend you visit our Dothan dental office for a consultation to discuss your options. We know you will be pleased with the beautiful results that will allow your dental structure to remain in good health.
---
Related Posts
September 10, 2021
Dental crowns are a great restoration option used both on their own and in conjunction with other procedures such as root canals and dental implant placements. They are often recommended after a root …
---