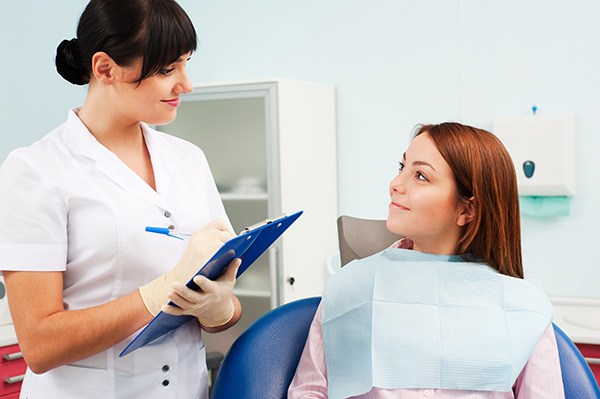 The American Dental Association recommends going to the dentist at least twice a year. Despite this recommendation, millions of people do not make regular visits to the dentist because they do not think they need to, or because they are nervous about going to the dentist.
If you are one of the people who fail to make regular dental visits, here are a few reasons why you need to see your dentist regularly.
Do I need to visit the dentist?
Making regular trips to the dentist is important because your dentist can spot oral health problems early, allowing you to get treatment for the problem before it becomes a bigger and more expensive issue. Regular dental visits also help to prevent oral problems from developing because your dentist will give you tips on how to practice good oral hygiene.
Another reason you should make regular visits to the dentist is that the dentist can also spot general health problems during your dental examination. Health problems like diabetes, heart disease and cancer can be diagnosed by your dentist during oral exams.
Do I need to see the dentist if I have healthy teeth?
Yes, even if you take good care of your teeth, going to the dentist should still be part of your routine because even though your teeth look healthy, you likely still have some plaque on your teeth or tartar on your gums that can lead to tooth decay and gum disease. Going to the dentist helps to keep your teeth healthy because your dentist will check for signs of tooth decay and remove any tartar they find on your gums.
How often should I go to the dentist?
This depends on how healthy your teeth and gums are. If you practice good oral hygiene, you should see your dentist twice a year to make sure your teeth and gums remain healthy and spot any potential problems that can only be diagnosed by your dentist.
If you do not practice good oral hygiene, you probably have some oral health issues that might require multiple visits to the dentist to fix. In this scenario, your dentist will tell you how often you need to come in to make sure there is no additional damage to your teeth and gums.
How do I find the right dentist?
Finding the right dentist depends on your needs or circumstances. If you have a family, it is recommended that you look for a dentist that practices family dentistry because it is more convenient than going to different dentists. Going to a family dentist also makes it easier for your kids if they are afraid of the dentist because they will feel more comfortable when they see you getting treated by the same dentist.
You should also make sure that you check out patient reviews before deciding on the dentist you use. If the reviews are good, you can follow up by scheduling an appointment with the dentist to discuss any fears or concern you might have. If the reviews are bad, you should continue your search.
Distance to your home or office is also an important factor when it comes to choosing a dentist, so make sure the dentist you choose is close to your home or place of work.
Conclusion
Going to the dentist regularly is important to both your oral and general health. If you have not been seeing your dentist regularly, schedule an appointment today to avoid having to deal with a bigger problem in the future.
Request an appointment here: https://www.hassandentistry.com or call Dr. Mohammed H. Hassan, DMD at (334) 575-3235 for an appointment in our Dothan office.
Check out what others are saying about our services on Yelp: Read our Yelp reviews.
---
Related Posts
January 15, 2023
In general dentistry, having a tooth extracted can be a lifesaver; however, it can also be quite intimidating to the actual patient. Thankfully, dentistry has improved over the years, which has resulted …