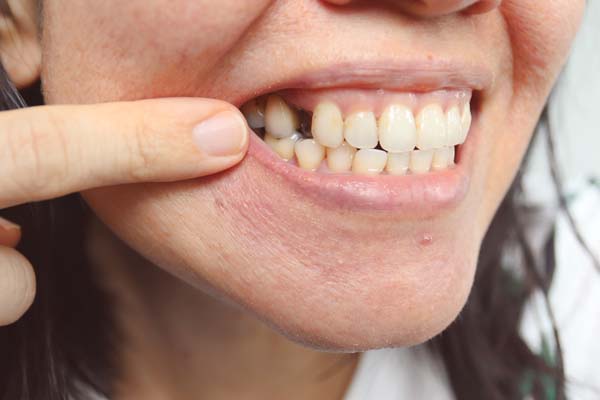 Dental bridges can replace a section of missing teeth. They look and function essentially the same as natural teeth. If you are missing multiple teeth and are considering a dental bridge, then learning more about what it is exactly and who is an ideal candidate for treatment is helpful in determining whether treatment is appropriate.
Dental bridges for replacing multiple missing teeth
There are several ways to replace multiple missing teeth in the long term. Often, dental professionals recommend dental bridges as a way to address a section of missing teeth long-term. The following review offers a definition of dental bridges and insights into the benefits and potential drawbacks of the treatment.
What is a dental bridge?
A dental bridge is a method of teeth replacement that utilizes multiple dental crowns that are attached to and supported by healthy adjacent natural teeth or dental implants. They are primarily used to fill in a section of multiple missing teeth. They are less invasive than dental implants (if attached to natural teeth) but still provide more reliability and often more convenience than removable partial dentures.
With proper care, dental bridges can last for more than a decade. The treatment process with dental bridges involves strengthening the adjacent teeth, which may include placing dental crowns if they are weak or damaged, customizing the artificial teeth for a comfortable fit, and attaching the dental bridge and artificial teeth for a secure, long-term hold.
Who is an ideal candidate for dental bridges?
As mentioned above, dental bridges are most appropriate when used to replace a small section of missing teeth. They can also replace a single missing tooth, as well. However, they are not suitable for full arch replacement. Patients who need more than four or five teeth replaced may benefit more from traditional removable dentures or implant-supported dentures. Anyone who is insecure about their smile, unable to eat the way they desire due to missing teeth, or has oral health problems caused by missing teeth should consider dental bridge treatment.
The pros and cons of dental bridges
There are many benefits to dental bridges. In general, they are often more affordable than implant-supported partial dentures if attached to existing natural teeth. Also, fixed bridges do not require surgery and offer long-term reliability (more than 10 years in some cases). They are also easy to care for through good oral hygiene and avoiding foods that may damage the artificial teeth or abutment teeth. However, the primary drawbacks are that they are less durable than dental implants and are not capable of replacing an entire row of missing teeth as traditional dentures can.
Talk to our dental team about missing teeth replacement
If you are missing multiple teeth and want to find out more about dental bridges and other treatment solutions available to you, contact us today to schedule a time to meet with our staff for a consultation. We believe no one should have to live with missing teeth, and we are here to help you regain confidence in your smile.
Are you considering missing teeth replacement in the Dothan area? Get more information at https://www.hassandentistry.com.
Check out what others are saying about our dental services on Yelp: Missing Teeth in Dothan, AL.
---
Related Posts
September 5, 2023
Although a dental cleaning appointment sounds specific to having the teeth cleaned, there are other services included in these appointments, all of which help ensure good oral health. Good oral health is …