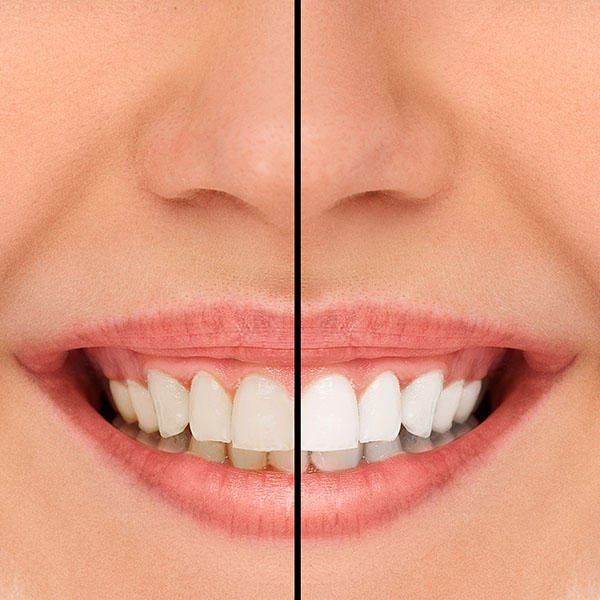 If you plan to pursue a teeth whitening service, you may have some unanswered questions. It is important to know what to expect and to be comfortable with the teeth whitening process. We can address your important questions and provide you with the peace of mind you are looking for.
Who is a candidate for a teeth whitening service?
If you have all of your permanent teeth, you can qualify for a teeth whitening. Before we give you a finalized answer, we will need to look over your teeth to make sure that you do not have any unaddressed diseases or unusual symptoms. If your oral health is intact, we can talk about your whitening options and which teeth whitening service may be right for you.
Teeth whitening is not for children, adolescents, people with gum disease or tooth abscesses, and it is also unadvised for people with restorations on their visible teeth as whitening will not improve the color of those materials.
How long does a teeth whitening service take?
The teeth whitening process length varies depending on which product you decide is right for you. If you choose an in-office option or a professional at home regimen, your teeth will show results after your first application and will continue to become whiter with each visit or each application. If you decide on a store bought option, we cannot guarantee you will see results promptly. Store bought whitening techniques can take up to several months to provide noticeable results.
Is a teeth whitening service harmful?
When you visit our office for a professional teeth whitening, you will be assured that the process will be safe and efficient. We have carefully selected bleaching chemicals that will not affect your dental enamel when used in moderation. Most store-bought whitening solutions are also safe if used as directed.
Does teeth whitening hurt?
Most people do not notice any discomfort during a teeth whitening treatment; however, you may experience slight sensitivity. This sensitivity is nothing to worry about unless it is very intense. If it is severe, it may be a sign that you have an undetected cavity or a crack in your tooth. In most cases, slight sensitivity can be treated with a desensitizing toothpaste to be used before or after you whiten.
Why should I whiten my teeth?
Whiter teeth make a better impression. If you are trying to succeed in your career or social life, a teeth whitening service can give you whiter teeth and a more beautiful smile. Other people will view you as more approachable and cleaner. Even if you have perfect dental hygiene, yellow teeth can imply to other people that you don't.
We hope we have answered your most important questions. If you still have other questions that you would like answered prior to your teeth whitening service, we can help. Call or visit our office for more information and the best teeth whitening treatments on the market.
---
Related Posts
February 16, 2019
Teeth Whitening is one of the most common procedures a cosmetic dentist performs. It can significantly improve the color of a person's teeth in one or two visits. The appearance of your teeth is one …
---