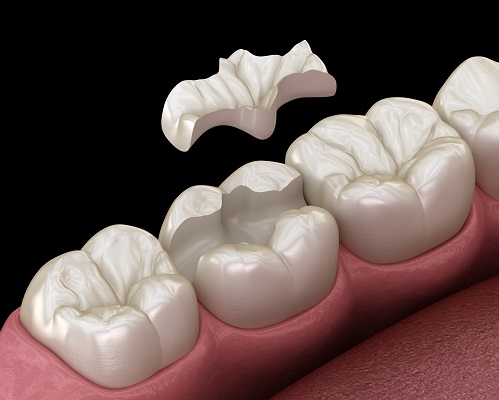 Learning about your options for tooth fillings is a great idea. No longer do you have to settle for the traditional metal fillings; instead, you now have the ability to choose the type of tooth filling you want for treating your tooth cavities. According to the American Dental Association, when it comes to having a cavity filled, it is important to know that you have the right to decide on the filling material.
About tooth fillings for teeth
Understanding your choices for tooth fillings is something you need to do when you need to have a cavity filled. Tooth fillings help restore a tooth when decay is present, a necessary procedure because untreated cavities can result in tooth loss. Fillings are also used to repair teeth that are cracked or fractured, as they help make teeth stronger. If you currently have one or more teeth in need of a tooth filling, be sure to make a timely dental appointment to avoid a potential tooth extraction or root canal.
Types of tooth fillings
The list below includes popular types of tooth fillings that dental patients are choosing nowadays.
Metal fillings
Also known as silver fillings and amalgam fillings, metal fillings are made using a mix of metals. This includes metals like mercury, silver, tin and copper, which dental professionals have been using for many years. While metal fillings are strong and durable, they are also noticeable. When are metal fillings recommended? Metal fillings are ideal for treating large cavities in teeth that are located in the back of the mouth.
Tooth-colored fillings
Also known as composite resins, tooth-colored fillings are quite durable. This is because they contain a mix of fillers, which makes this a strong filling option. It can be used to fill cavities on the front teeth or the back teeth, making it versatile. When are tooth-colored fillings recommended? They are recommended when a dental patient is in need of a filling that can hold up to the moderate pressure that comes from chewing food.
Gold fillings
Gold fillings are also often called inlays or onlays. This type of tooth filling is made using a mix of gold, copper, and other types of metals. Gold has been used by dental professionals for many years, mainly due to the fact that it is both solid and long-lasting. When are gold fillings recommended? They are recommended when a tooth cavity is located in a high-stress chewing area.
Are you in need of tooth fillings?
If you have cavities, you get to choose your tooth fillings, as cavities need to be filled as soon as possible in order to prevent a tooth from getting worse. When you have a cavity, it means that your tooth has some level of decay. This will not stop until you treat the tooth. If you do not treat a tooth that is in decay, it will continue to get worse until it destroys the tooth. Ready to stop the decay?
Request an appointment here: https://www.hassandentistry.com or call Dr. Mohammed H. Hassan, DMD at (334) 575-3235 for an appointment in our Dothan office.
Check out what others are saying about our dental services on Yelp: Composite Fillings in Dothan, AL.
---
Related Posts
July 3, 2023
A dental fillings is one of the main procedures performed on patients. Everyone should see their dentist twice a year. It is during these visits where most oral health issues are detected. …