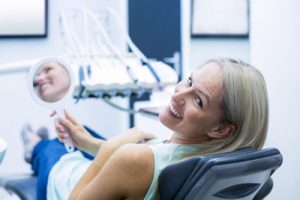 Tooth crowns are custom created caps that cover the full tooth. Tooth crowns encompass the tooth all the way from the gum line on up to the chewing surface. Most people have heard of dental crowns yet plenty are unaware of their varied merits. Tooth crowns really will help your teeth function and look better for years to come.
Dental crowns
Tooth Crowns Relieve Discomfort
Dentists commonly recommend placing a tooth crown to finalize a restorative treatment. The tooth will likely still have a portion of its structure vulnerable following a filling, crack sealing through bonding, root canal or other procedure. The dentist can fortify the leftover portion with a tooth crown to prevent sensitivity and additional oral health issues from arising.
Tooth Crowns are Custom Designed for Your Smile
Today's dentists are advanced to the point that they refuse to use one-size-fits-all tooth crowns. Rather, they design dental crowns to suit each patient's unique teeth, mouth and smile. Your tooth crown will blend in perfectly with the rest of your natural teeth after the dentist customizes the fit, color, shape and size. Customizing the crown is the highly individualized approach every patient deserves.
Tooth Crowns Almost Always Stand the Test of Time
Today's tooth crowns are comprised of strong materials. If you take care of your tooth crown including the surrounding teeth with regular flossing, brushing and dental examinations/cleanings, your tooth crown might last upwards of two to three decades.
Placing a Tooth Crown is Fast, Easy and Nearly Painless
There is a common misconception the placement of a tooth crown is a particularly complex or intense procedure. The placement of a tooth crown is actually minimally invasive. The dentist will clean the tooth enamel and shape the tooth so that it can keep the crown in place.
The dentist will take an impression and send it to the dental lab. Dental technicians handcraft the crown in the next couple of weeks. The dentist then affixes it to the tooth in question with a strong dental bonding cement. This procedure involves minimal, if any, patient discomfort.
Tooth Crowns Improve the Look of Your Smile
Tooth crowns are mainly a component of a restorative procedure but can also provide benefits in terms of appearance. Tooth crowns fit right over the tooth to provide immediate correction for staining, discoloration, misshapen teeth, fracture, chips, crookedness, cracks and beyond.
Tooth Crown Varieties
Tooth crowns are made of different materials. Some are comprised of zirconia. Others are made of porcelain. These two types of crowns are generally considered more visually impressive than other options like acrylic and composite. Discuss the different types of tooth crowns with your dentist to determine which is ideal for your unique oral health.
It Will Not Take Long to Get Used to Your Tooth Crown
Tooth crowns are fairly small in size. It will not take long to get used to the crown's feel. Give your tooth crown a couple of weeks and you will not even know it is in your mouth. In some cases, it takes as little as a week or less to become comfortable with the tooth crown.
What's the bottom line?
Request an appointment in our Dothan dental office here: https://www.hassandentistry.com. Or call us at (334) 575-3235 for more information from Dr. Mohammed H. Hassan, DMD.
---
Related Posts
September 10, 2021
Dental crowns are a great restoration option used both on their own and in conjunction with other procedures such as root canals and dental implant placements. They are often recommended after a root …
---